Success Story: AVIO Consulting, An Interactive Experience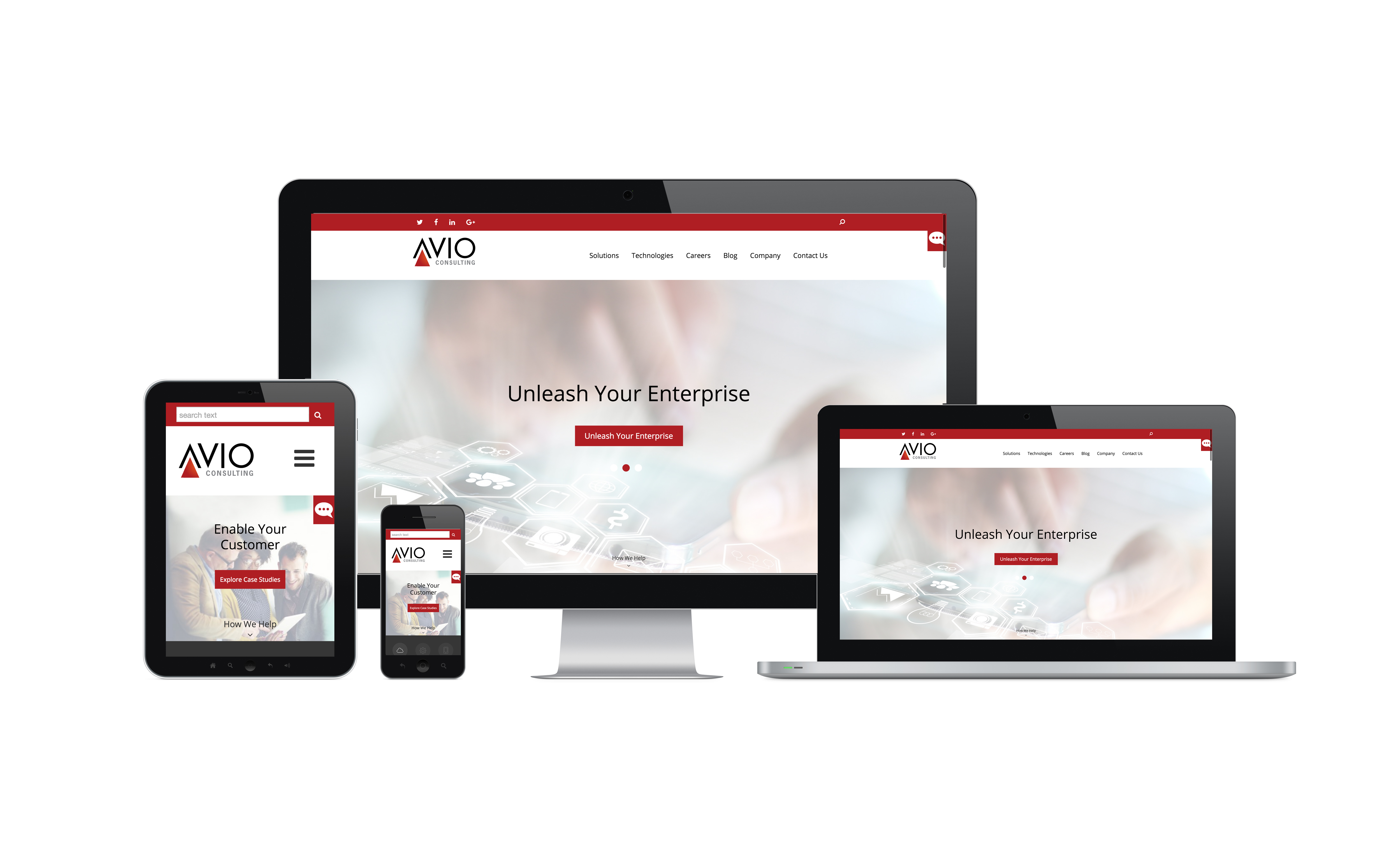 "Function1's expertise and collaborative approach made the redesign process seamless. Thanks for bringing our vision for AVIO's refreshed digital presence to life, we are very proud of the end product."
- Brandon Dean, AVIO Consulting
 
About AVIO Consulting
AVIO is a consulting leader in the Oracle Fusion Middleware and Mulesoft spaces. Though best known for its Oracle portfolio, AVIO also provides world-class solutions in the cloud, digital transformation, mobile, process, and strategy fields. AVIO came to Function1 looking for a website with a refreshed representation of their extensive solution and technology based services.  
Why Drupal?
AVIO's legacy website was operating on Drupal 7, so the client was already well-versed in the open source platform's unmatched benefits, including:
Scalability
Flexibility & Customization
User Friendly for Non-Technical Resources
Affordability
Continuous Security Updates
Project Background
Having recently concluded a rebranding initiative, AVIO's objective was clear: to create a responsive website highlighting their various specialized solutions and technology capabilities. As their legacy website was self-described as "too static," a design refresh would mean developing an experience that encourages end-user engagement. Armed with explicit direction from a motivated client, Function1 set out to achieve these goals against a quick turnaround timeline, while migrating from Drupal 7 to the relatively new Drupal 8 platform.
AVIO Consulting's Homepage; Before (left) and After (right) Function1's Redesign
Creating an Interactive Experience
The effort to transform AVIO's site from a credibility tool (as it was traditionally used) to an engaging sales tool, started with conducting a stakeholder interview and reviewing client-provided User Personas. Emphasis was placed on building a dynamic blog section (as the majority of the site's traffic had been derived from its consultant articles) along with a powerful homepage to reduce bounce rates.
The updated homepage design greets users with a hero slider that is both visually stimulating and easily editable by AVIO resources regardless of skill level. The site's navigation boasts a full-width dropdown, adding to its modern feel, and follows the user down the page on scroll boosting usability. In order to showcase AVIO's far-reaching expertise, the section below the hero provides an interactive overview of its services that promotes user engagement. As one of its most important recruitment and sales tools, AVIO's blog has high visibility on the homepage. The blog section of the homepage was developed so that AVIO has the ability to feature their articles either by popularity or chronology. The case study slideshow is both easily maintainable and customizable by AVIO, allowing for up-to-date content for the end user.
Responsive Revamp
AVIO's legacy website had no mobile capabilities; the introduction of a responsive theme was imperative in order to remain relevant in an age where more users are exchanging desktop web browsing habits for tablets and/or smart phones. The site now offers users the same experience across devices. In addition to a modern design, Function1 added a toggle feature to every Paragraph, allowing AVIO full control over content shown on mobile view.
Seamless Migration from Drupal 7 to Drupal 8
Over the years AVIO developed a robust blog filled with industry-leading content, which further stressed the importance of completing a seamless migration from Drupal 7 to Drupal 8. Function1's long-standing expertise in this area offered peace of mind that migration efforts would enhance the site without losing any functionality. By utilizing Drupal 8's built-in migration toolset, Function1 was able to migrate AVIO's valuable content swiftly and successfully.
AVIO Consulting's Solutions Page; Before (left) and After (right) Function1's Redesign
Increased Flexibility
Function1 put Drupal's Paragraphs module to good use in order to successfully address AVIO's content editing concerns. Paragraphs allow AVIO's content editors the flexibility to add and re-order various blocks of content including:
Multi-column elements
Full width text, images or video
Slideshows
Optional filtered background images
Control over mobile visibility
Paragraph options provide limitless combinations of displayed content. A simple, user-friendly interface allows AVIO to effortlessly manage their content, reducing the risk of appearing outdated to prospective and current clients.
Augmented Usability
To further elevate usability from a content maintenance perspective, Function1 developed an internal library of videos and default images for use across the site. This is especially helpful for blogging, providing AVIO with the option to either use a preset image or upload their own when publishing an article.
AVIO Consulting's Blog; Before (left) and After (right) Function1's Redesign
Heightened Performance
By optimizing the full-width images featured across the website and leveraging Drupal 8's internal page, Function1 provided a 300% increase in site speed. Furthermore, Drupal 8's dynamic page cache extends the benefits of caching to authenticated users as well as anonymous visitors. Function1 utilized both Mollom and Honeypot to markedly reduced spam on the site's various contact modules and throughout the blog section.
Enhanced Search with Solr
In addition to increasing site speed, Function1 upgraded AVIO's search capabilities by employing Solr. Solr offers extensive benefits including full-text and faceted search, real-time indexing, and Word/PDF handling.
Drupal Contributions
Funtion1 is an active member of the Drupal community and is always looking for ways to give back to the platform while enhancing customer's website projects. Most recently, Function1 contributed the YouTube Block Module for The SAPAN Institute.
While working with AVIO, Function1 developed the Slaask module for Drupal 8, which provides an integration with Slaask's chat JavaScript. The Slaask module enables its users to set up a live chat channel on Slack, making it easy for AVIO's site visitors to directly connect with dedicated resources.
For more information or to request a quote for your website redesign project, contact us at info@function1.com.