Success Story: A Responsive Solution for the Toronto School of Theology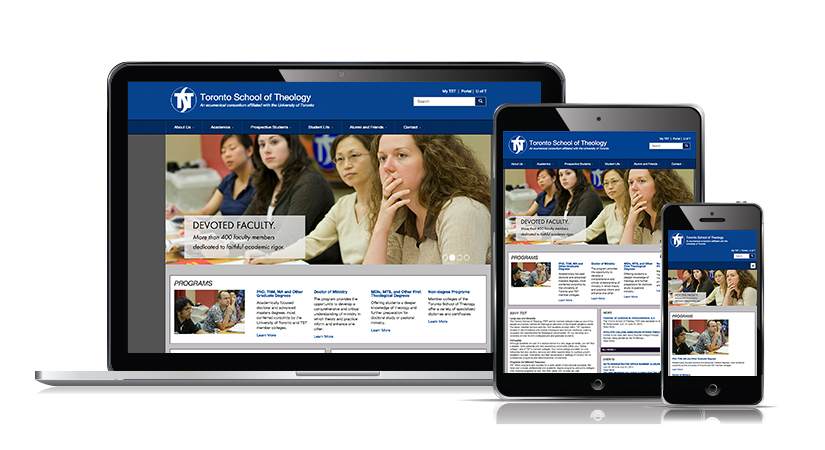 "The new website is fantastic. I . . . am still having fun exploring all it has to offer."
- Board Vice-Chair, Toronto School of Theology
 
The Opportunity
The Toronto School of Theology (TST)
is the largest ecumenical consortium for theological education in Canada with its seven member schools (all degree-granting from the University of Toronto) boasting one of the biggest gatherings of theology scholars in the English-speaking world. TST turned to Function1 to provide a redesigned and restructured website that would act as the refreshed public face for TST and a bolstered recruitment and information sharing tool. The new site would be tasked with presenting TST to its various constituencies and the general public in a visually appealing, professional, and engaging manner while yielding an exceptional reflection of TST's mission and reputation.
TST came to Function1 with a website that was (self-admittedly) not aesthetically up-to-date which demanded a responsive solution with an increased level of user-experience and functionality including:
 
intuitive navigation;

Accessibility for Ontarians with Disabilities Act (AODA) compliance;

a robust search functionality;

streamline the updating of the course catalogue;

a secure log-in area for staff and faculty;

a well-functioning listing tool for events and news;

a calendar view for events and an online submission form for news and events items;

social media integration; and

video integration;
 
The Solution
TST is one of the many higher educational organizations that employ the open source CMS technology that is Drupal. The Drupal stack proved to be the perfect choice for TST because of its open source and community-driven nature and the added bonus of no fees associated with licensing or maintenance of the underlying software (Drupal, Apache, PHP, MySQL, Varnish, modules, Solr, git, etc.).
TST.edu was previously running on Drupal 6. Over time, several areas were identified that could be improved in their workflows and user experience. The redesign and upgrade to Drupal 7 allowed for TST to enjoy improvements in content editing, workflows, user experience and more.
Landing Page Restructure & Visual Renewal
The refreshed
TST
.edu
landing page is now organized through a clear visual hierarchy, highlighting content that's most important to the consortium and its users including programs, news and events, as well as the member colleges.
With the introduction of a new color palette featuring blue and gray hues with highlights of purple, the redesigned site has a clean and sleek look that is easy on the eyes yet visually stimulating. By utilizing and highlighting professional photography of TST campus life across the site the new
TST
.edu
exudes authenticity while providing a relatable and approachable experience for end-users. An improved navigational structure yields a heightened user experience to ensure a lower bounce rate. The previous site featured
quick links
as a left side bar, which created heavy competition with the main menu leaving users to feel overwhelmed. The
Find it Fast
links are now displayed in the footer, giving users a chance to review the landing page content in a more structured manner while still offering quick links to popular pages on the site.  
"The 'Find it Fast' is a clever and convenient new feature. Very straightforward and intuitive . . . am impressed by the design."
- Professor, Toronto School of Theology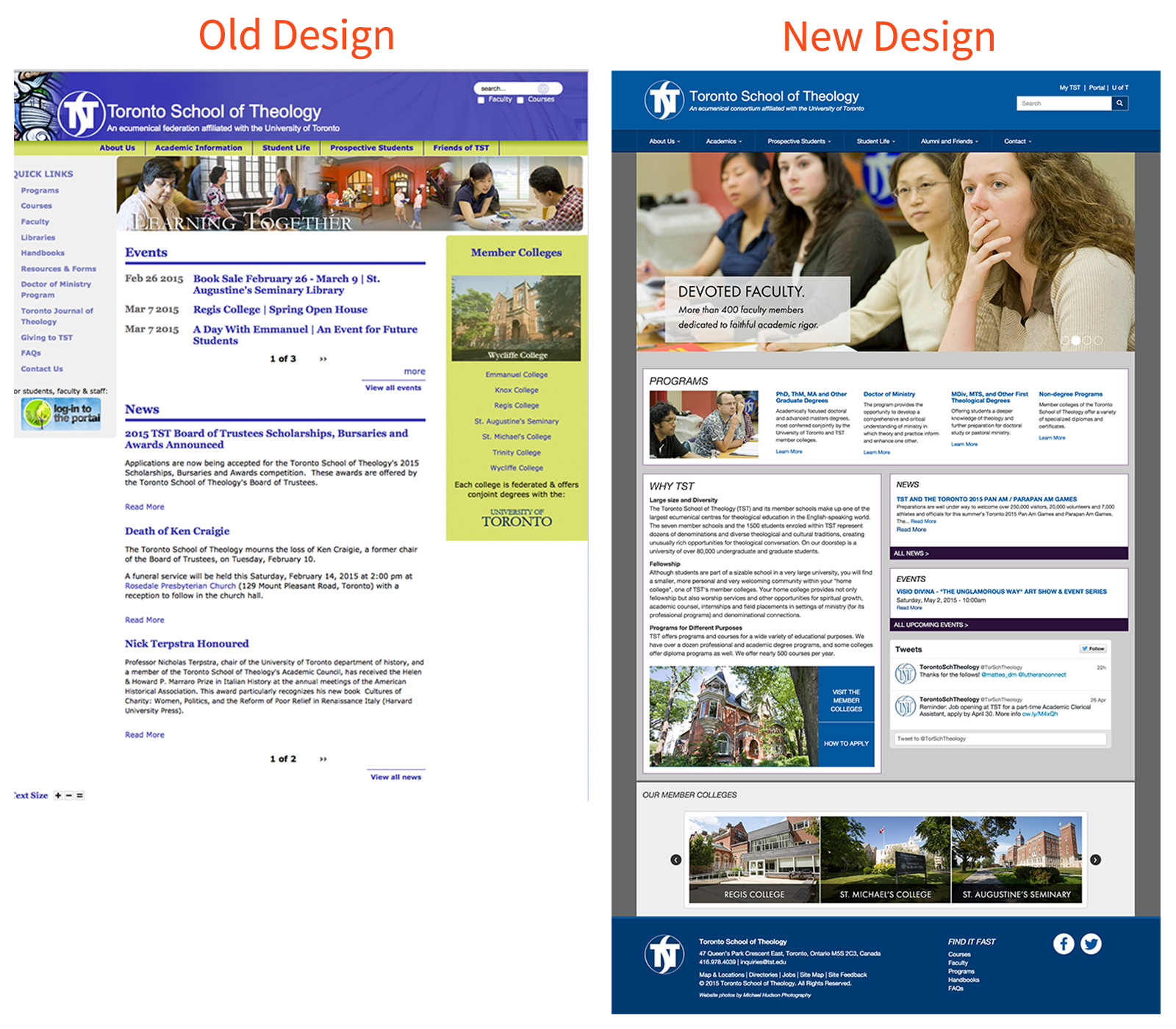 The TST.edu Landing Page as shown Before (above left) and After (above right).
SEO Improvements
In order to boost TST's visibility in search results,
we structured the Drupal installation according to our predefined set of guidelines implemented in all Function1 projects. URL's are structured to be user-friendly so that users never feel lost on the site without compromising Search Engine benefits. Website content was built by following accessibility standards and implementing SEO Content Optimizations. User-created content is pre-processed so that SEO checks and rules are satisfied automatically, resulting in a clean, Search engine-friendly website.
Responsive Design
In early 2014, mobile usage exceeded that of personal computers for the first time. In fact, 60 percent internet access is now mostly mobile. The previous TST site employed a static design, meaning it looked exactly the same across devices and was not mobile or tablet friendly. As seen in the image at the top of this post, TST's new, responsive website design now allows for ease of use across any device (including those not yet created).
 
Course Catalog & Add to Favourites
The Function1 solution included the listing of available courses from all member colleges on one page as well as an optional search method. Users are able to search courses by College, Session Offered, Start Time, Course Code, Course Title, Course Level and if the Course is available to take online. Current (or prospective) students are also able to add Courses to a Favourites List that will save for a period within cookies.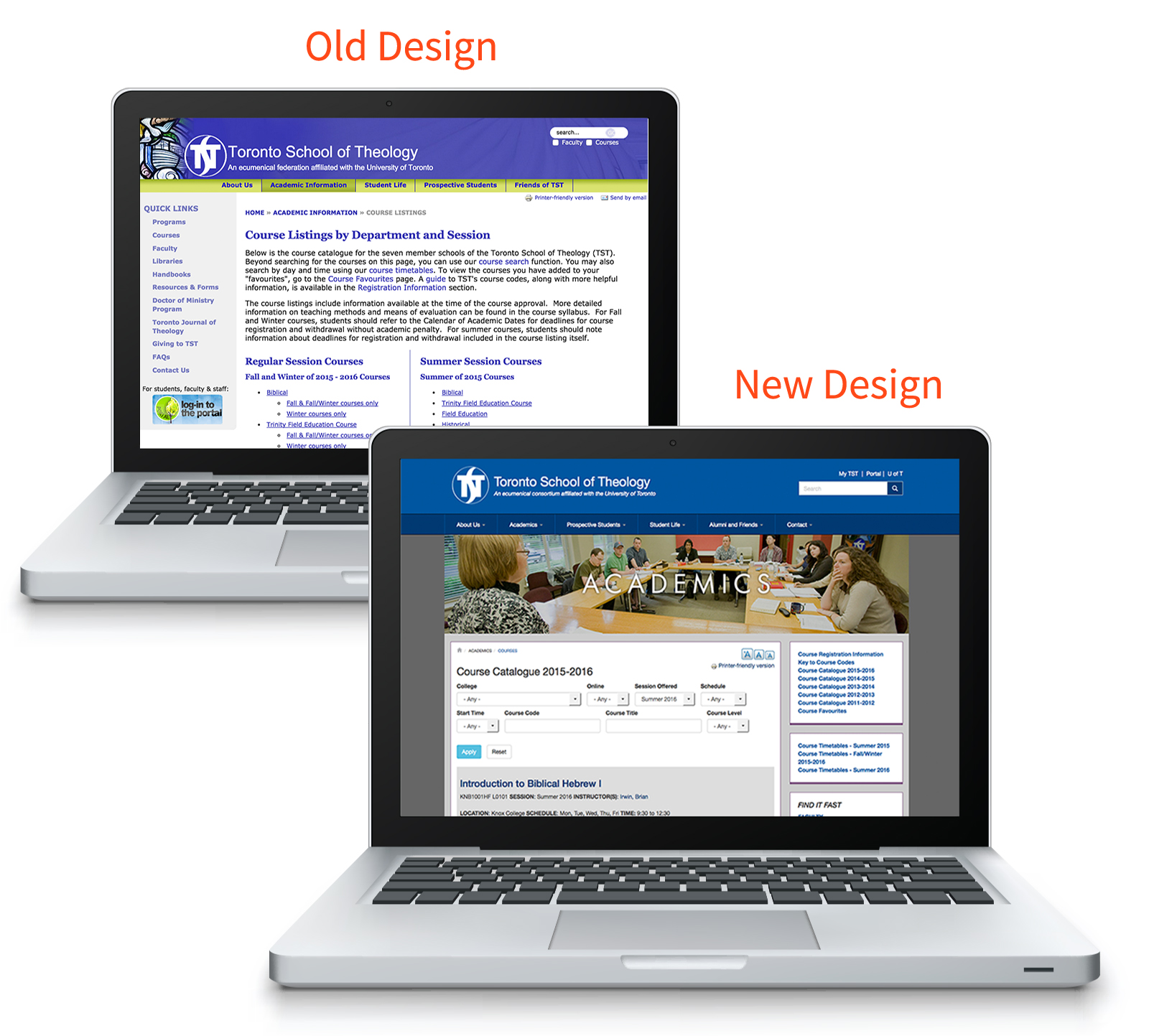 The TST.edu Course Catalogue as shown Before (top) and After (bottom).
Social Media Integration
In addition to the TST twitter feed displayed on the revamped landing page and social channel links showcased in the footer, all courses can now be shared by users via social share. This provides a huge marketing and recruitment benefit for the school as social media becomes more ubiquitous with each passing day. Currently, 74% of all internet-using adults spend time on social networking sites. That number only increases for adults aged 18-29, as 89% are using social media.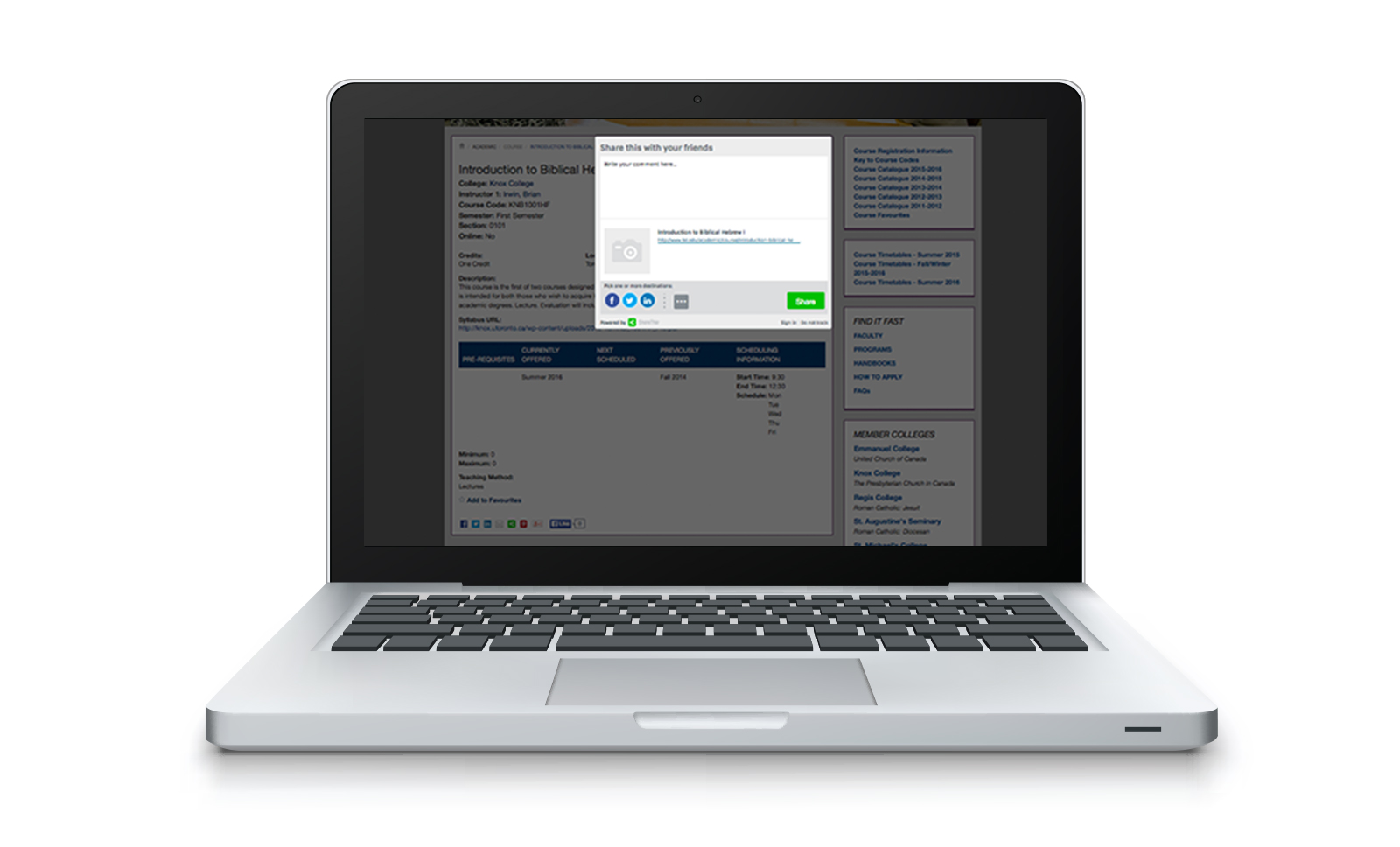 The TST.edu Social Media Integration - Social Share feature as seen on the Course Description page.
" . . . A huge improvement over the old site. I like that there was consideration of accessibility (print size, printer friendly version)."
- Student, Toronto School of Theology
Accordion Display
The TST site demanded the display of large amounts of content in an organized manner, so with that in mind the redesign solution utilizes an accordion type dropdown. This allows the user to expand to read only the information they are seeking so that they are not overwhelmed by the amount of content displayed on one page.
 
Newsletter Subscription
For improved user experience, site visitors now have the ability to submit their emails via the TST website to subscribe to the consortium's online newsletter and receive weekly updates regarding news & events.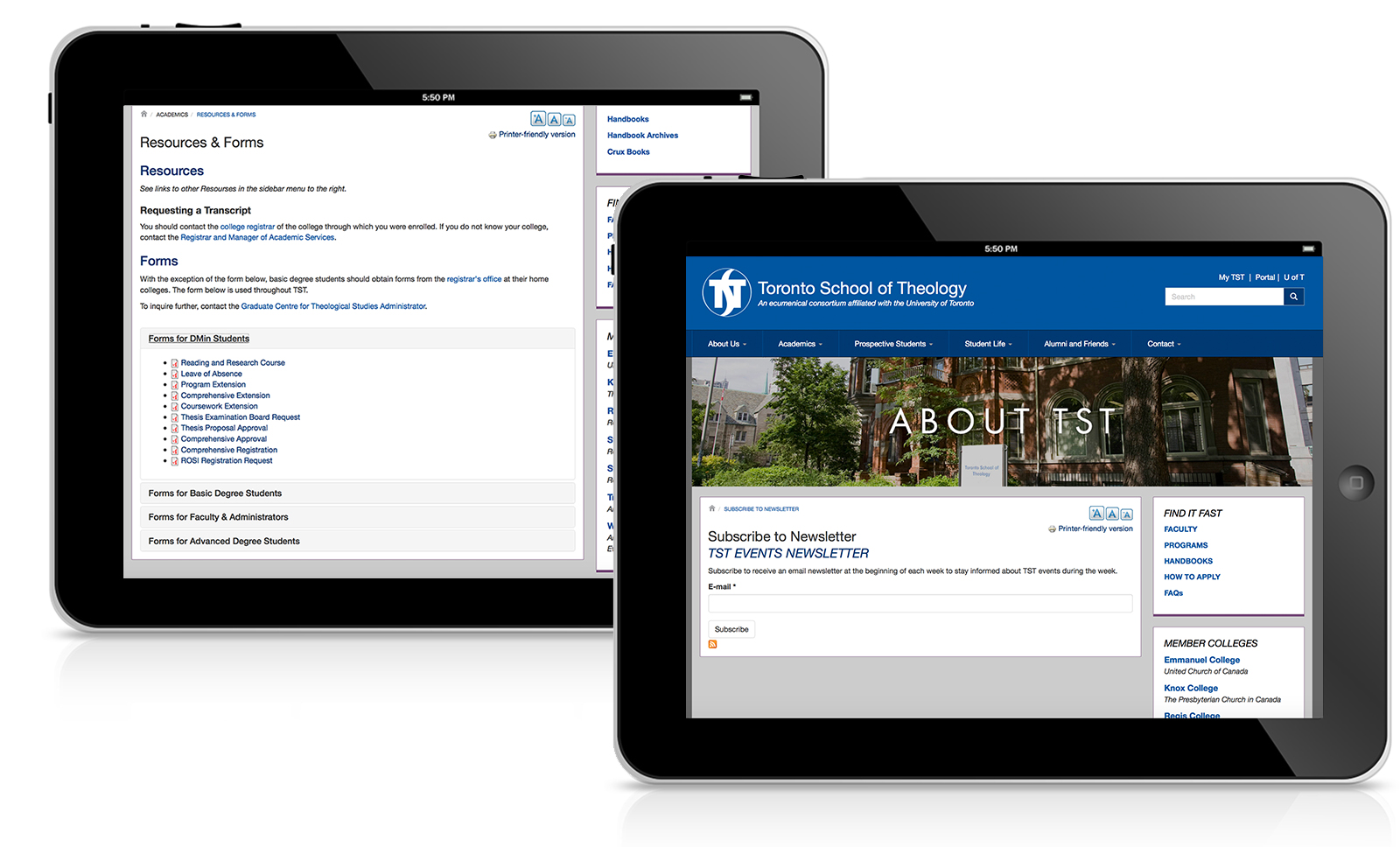 The TST.edu Accordion Display & Newsletter Subscription Features.
The Outcome
At Function1, our goal is to develop and deploy solutions that make our clients successful. TST was already a renowned center of theological study, it was our job to bring their website up-to-date and back to life. Utilizing the open source, Drupal platform, we were able to deliver a well-designed, cost-effective recruitment and knowledge-sharing tool for a wide range of audiences. Not only does the new site better reflect TST visually for its end-users, it also provides an ease of use for content editors, which in turn will ensure that the site's content is always current and well maintained for years to come. We're only happy when our clients are; and their words speak volumes: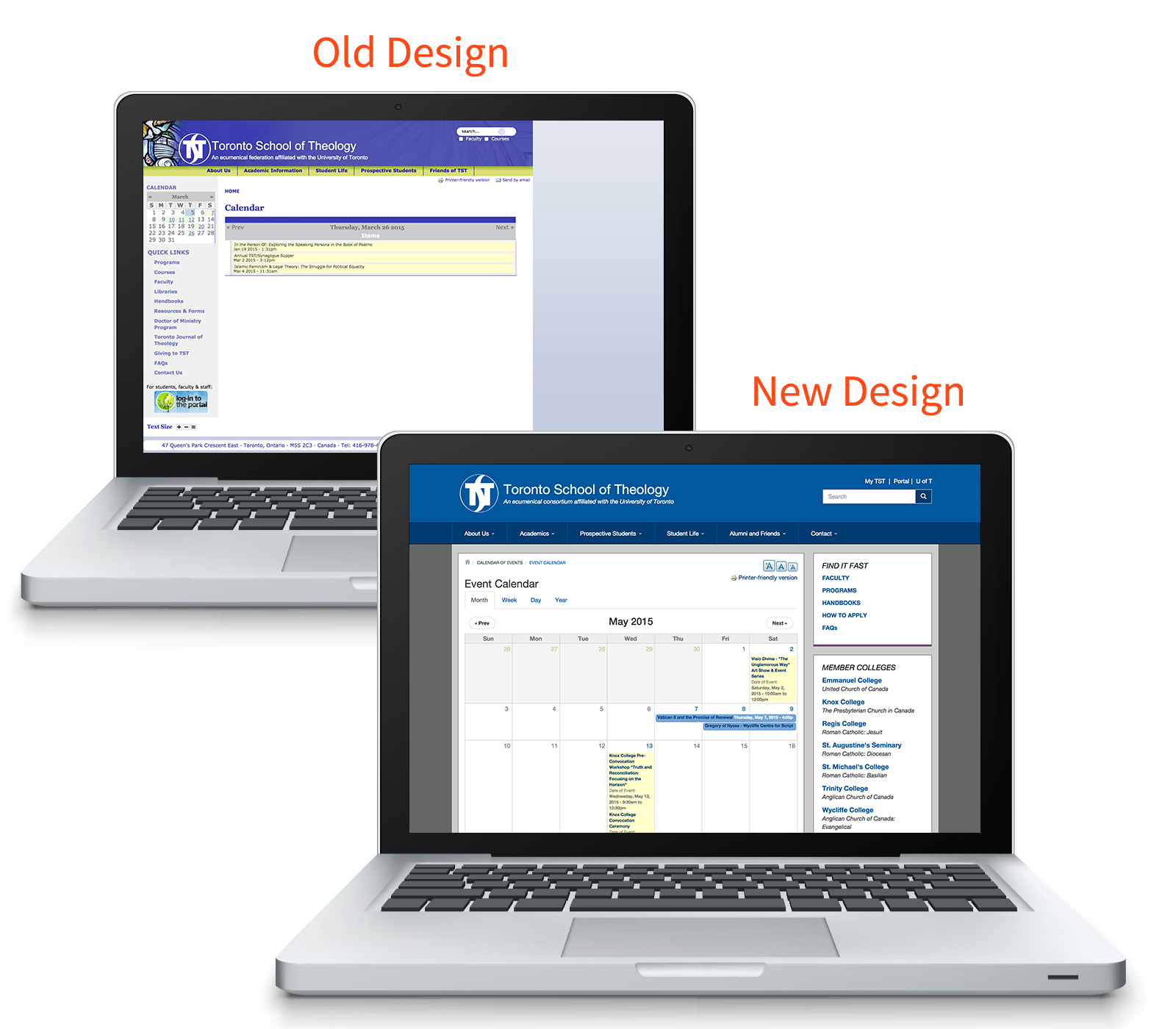 TST.edu Calendar Page as shown Before (top) and After (bottom).
"It is wonderful; So vibrant and informative."
- Board Member, Toronto School of Theology
Are you interested in obtaining a quote for your website redesign? Contact us at info@function1.com.