Function1 and Crafter Software Partner to Deliver Innovative Digital Experience Solutions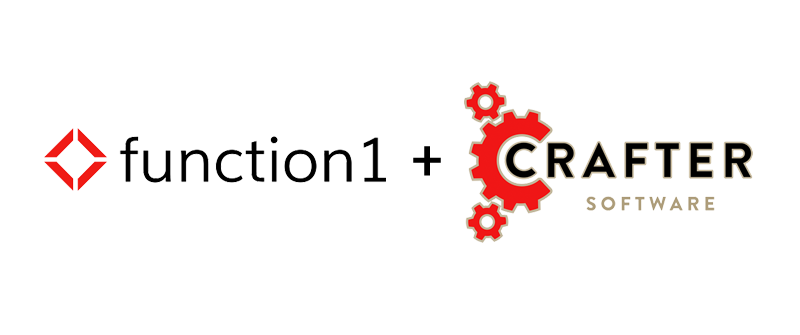 We're thrilled to announce we're joining the Crafter Software ecosystem as an expert consulting and systems integration partner! This partnership brings together two industry-leaders with the goal to deliver complete digital experience solutions throughout the customer journey. We look forward to working with Crafter Software to provide innovative solutions that will empower organizations to deliver frictionless digital experiences.
"Our goal at Crafter Software is to completely reinvent the way and speed at which companies build, manage and deliver digital experiences. Legacy CMS platforms do not handle today's demand for constant innovation that's driven by a need for major improvements in customer experience, evolving technology and new regulation. Speed and quality of innovation are the key to success," said Russ Danner, VP of Products at Crafter Software. "Our Git-based dynamic content management platform, Crafter CMS, with its focus on support for DevOps and next-generation content repository mechanics, combined with industry-specific expertise provided by partners like Function1, empowers our customers with the solutions and resources they need to succeed."
We work with many of today's leading businesses to bring their ideas to life through our creative, expert solutions for solving complicated enterprise technology challenges. Our partnership with Crafter Software, along with our award-winning team of digtal experience experts, will offer our customers a comprehensive solution to deliver meaningful customer experiences across channels.
Learn More About Crafter Software
Crafter Software is on a mission to replace the broken paradigm of traditional content management, and to usher in a new era of fast, agile and easier development of intelligent digital experiences. Their flagship product, Crafter CMS, is amazing for developers, easy for content authors, and fantastic for IT operations -- bringing the benefits of DevOps to content management applications. Crafter Software builds our solutions on the foundation of open source, transparency, robust architecture, high performance, superior quality and outstanding customer support. Crafter CMS is available on premise in the enterprise or SaaS in the cloud. Learn more at https://craftersoftware.com and https://craftercloud.io.