Deepica Mutyala, 'Tinted' Founder, Empowering Women Through Representation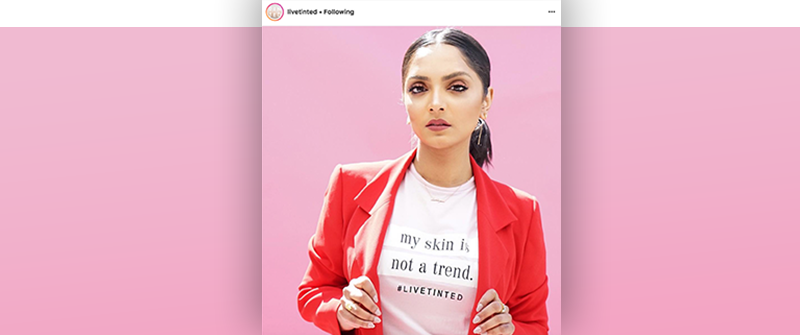 Deepica Mutyala wants women (and girls) everywhere to know that we can all win. As a 16-year-old girl growing up in Texas, Deepica found herself with a frustrating problem: not being able to find makeup that was made for her skin tone. She'd leave the store feeling defeated and disheartened, having to settle for a purchase and mixing multiple shades in order to achieve the perfect tint. She vowed to one day create a beauty line for South Asian Women to address this need and ensure that other young girls wouldn't experience the same isolating feelings of exclusion.  
It may have been years since she first set her sights on building an inclusive beauty line, but Deepica credits this dream as the foundation to what is now TINTED; a digital community she recently launched for women (and men) who have historically been ignored and overlooked by beauty brands and the media.
I met Deepica 3 years ago while we were building her personal website (now Deepica.com). She had recently left her job at (then startup) Birchbox as a Senior Beauty Brand Developer after becoming an overnight YouTube sensation with her massively popular "How to Mask Dark Under Eye Circles" video tutorial.  Anyone else might have been pretty satisfied with such success - after all, viral content doesn't happen often. Instead, Deepica recognized the opportunity she was presented and promptly began working diligently to capitalize on her newfound fame by developing her now beauty-influencer-empire of tutorials, product reviews, insider interviews, and on-air beauty expert segments. 
Before leaving the corporate beauty world behind, her boss (and then co-CEO of Birchbox) Hayley Barna encouraged her to start a "brown community." Looking back, Deepica reflects that at the time of that conversation she wasn't quite ready - it would be a huge undertaking - and so, she spent the last 3 years developing relationships and building an audience. Fast forward to late 2017, armed with an extensive collection of experience and connections, she was prepared to launch her online community. She recalls, "I feel very fortunate because I have been given these opportunities - brown women don't get to see ourselves in campaigns like MAC and L'Oreal. That's what motivated me to what to change things." 
Our digital experience team was able to bring Deepica and her TINTED teams' vision for LiveTinted.com to life at the end of January. Less than 2 months since the initial launch and TINTED's popularity on Instagram (@livetinted) says it all. Rapidly approaching 17k followers, it's pretty clear that this platform that was years in the making - filled with fresh, thumb-stopping content like: "Hue to Know", "Tinty Product Reviews", and "Tinterviews" highlighting brown women (and men) and rating inclusive product lines - has been long overdue.
TINTED is further proof (as if we needed it) that representation truly matters. Deepica recognized that it was time for someone else to be given an opportunity, a voice "for all of the shades in between." She explains, "We built TINTED to showcase and help women realize that a. you're not alone and b. the color of your skin is perfect the way it is."
From her time building TINTED, Deepica realized another important, empowering message: "By creating a community that went beyond just me, I can amplify other voices and bring women together. I'm a big advocate that we all can win. We can show younger women that: me helping my girlfriend win doesn't mean that I'm not winning - which was not something that existed when I was growing up. And I think that TINTED does a great job of doing that."
Deepica knows firsthand just how unstoppable women can be when we build each other up. Her mentors and role models (in addition to Hayley Barna's support and vision from the get-go) include the likes of ClassPass founder Payal Kadakia who offered an insider look at the ups and downs of starting her own business, Blended Strategy Group's Sherry Jhawar and Allison Statter whose support and genuine belief in TINTED's mission is "such an honor and just gives you more confidence when people like that support your vision."
She also credits natural baby and home product mogul (and actress) Jessica Alba with showing her what a leader should be like - the way Alba was so kind during a chance encounter, recognizing her passion and has since extended invitations to various events and made a conscious effort to elevate her voice. Deepica added, "the way she was as a leader was really inspiring to me. She showed me that brown women can come together, that you're supposed to use your voice to do good - whatever that means to you."
When I asked Deepica if she's faced any specific challenges as a female entrepreneur, she was quick to point out that while she has seen her fair share - and women still have a long way to go, "I think now more than ever is an exciting time to be a woman in business and technology because of the community - the 'pay-it-forward' kind of a thing that is happening - so I feel really grateful." XFactor Ventures (Aubrie Pagano and Liz Whitman), a fund focused on investing in female-led companies, rallied behind TINTED. Gaining the support of women who are entrepreneurs themselves and knowing that they wholly believe in TINTED's mission has been integral to elevating her confidence.  
So, as she looks ahead at future plans for TINTED, what makes Deepica the most excited? "The most exciting part about it all is that it's an evolving process that we're learning about every day. Everything that's happened since I've been 16 has been a building block to where I am now. I think right now, that TINTED is a platform to empower women and make them feel beautiful in their skin but we're not limited to that dream I had at 16; it has evolved into something much bigger."
As TINTED's premier technology partner, our team at Function1 is excited to see what the future has in store for Deepica and the TINTED platform. Questions about this blog? Feel free to comment below or email me at caroline@function1.com.