Work From Home Successfully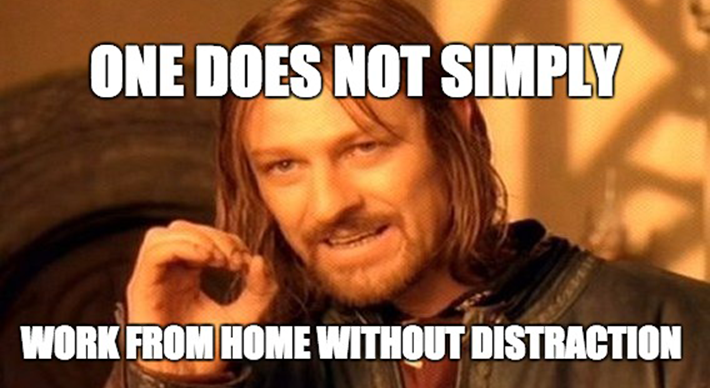 While working from a virtual environment offers many benefits, it can sometimes be challenging with all of the various distractions, which you may not experience in an office environment.  From thinking about and tackling your day-to-day responsibilities, to having a television nearby, all of these things can easily run you off course making it difficult to concentrate on work and manage your time efficiently.
Below are some tips that can help curb those distractions, and allow for you to be successful in the workplace, whether you work from an office or not.
Set a routine – Just like when you are physically going into the office, you should set a routine for yourself when you are working from home.  Wake up at the same time every day, keep your fridge stocked so you're not scrambling for lunch and snacks, and plan your breaks. Structuring your day can be your biggest asset in a virtual workplace. Find out what works best for you!
Have a dedicated workspace – Creating a productive environment can help minimize distractions when working from home.  If you're short on space, setting up a small desk and chair in one corner of your house that can be easily stored when necessary can even be more productive rather than working from the couch or even your bed.
Prioritize your time – Sometimes as a consultant you can find yourself on multiple projects, whether client facing or internal.   This can cause you to feel "stretched" if you don't' have a prioritized task list.  Working with your project manager or technical lead can help identify high priority tasks and their timeline, which can help you manage your time better and have a clearer picture as to what your day-to-day looks like.  Understanding what's important and a priority can help manage expectations without feeling overworked.
Tackle your most important task first – Starting your day off by working on the most important task for that day when you are the most focused and creative, can help you work through your task list in a better way, rather than waiting until the end of the day when our focus has faded (does the afternoon slump ring a bell?
Communicate – Find ways to maintain contact with your coworkers and clients.  This can help you feel less isolated, and more connected to your peers and your work.
Take breaks – Clear your head, and give your eyes a break from staring at your screen.  Take a two-minute walk or do anything that can help you refocus, just make sure that the people you work with know if you won't be reachable.
Force yourself to "unplug" – When you're working from home, sometimes you're never really "unplugged".  Having mobile access to email can cause you to check and reply to emails at all hours of the night, making it difficult for you to unwind and regroup.  Allowing you to take a break can help to remind you that you do have a life outside of work.
There is a misconception that working from home is a vacation, or that you get a pass from your responsibilities, but with more companies adopting the virtual workplace motto, following the simple steps above can help ensure that not only you but your company remains successful, regardless of your work environment.