Success Story: Wycliffe College - Rebranding a Religious Community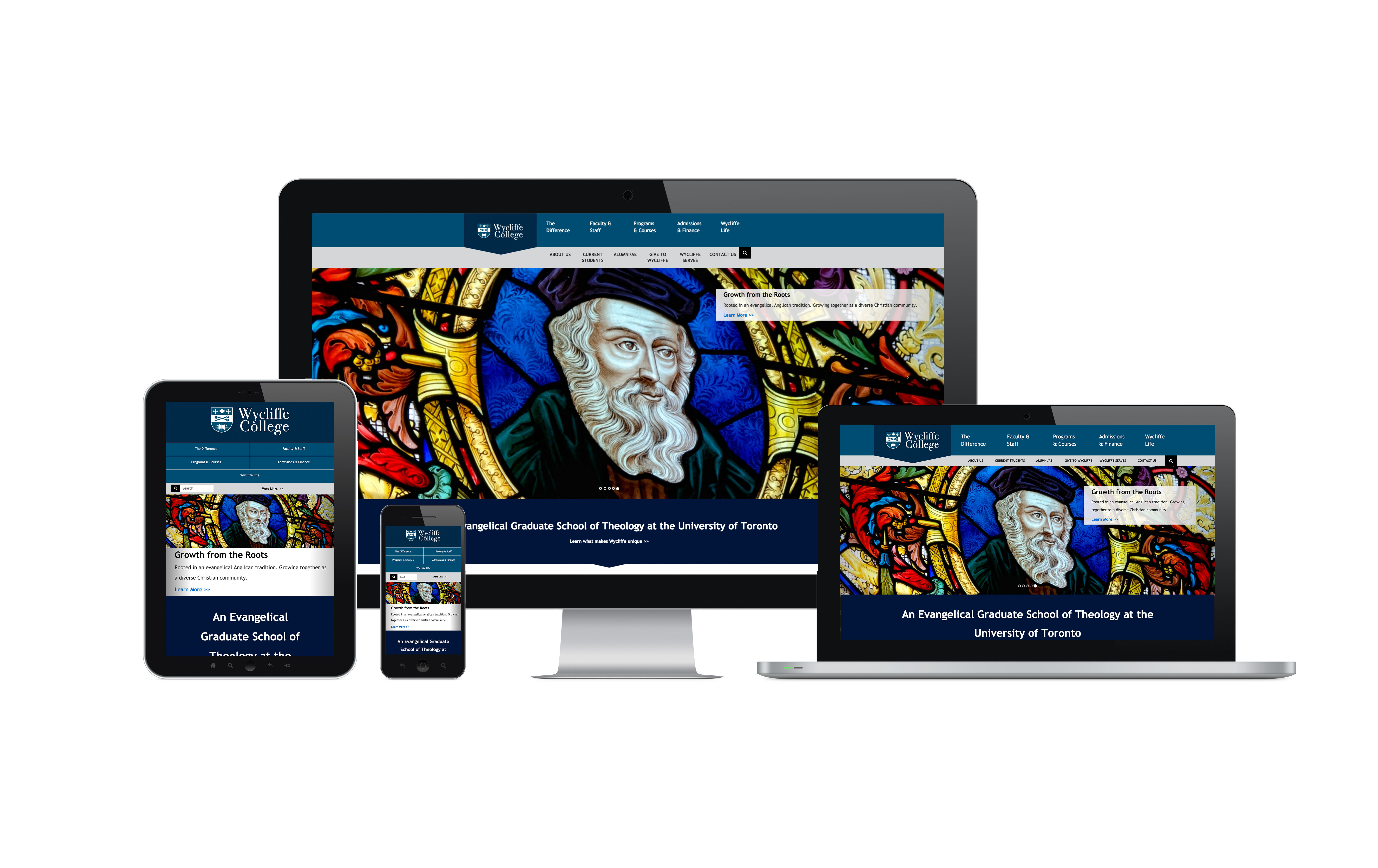 The Opportunity:
After successfully creating & deploying a redesigned, responsive Drupal solution for The Toronto School of Theology (TST), our team was approached by Wycliffe College (an instrumental member of TST's ecumenical consortium) with the hopes of realizing similar gains for their own website.
When Wycliffe College contacted our team, their website was dated from a visual, content organization, and technology perspective. Our mission was to portray Wycliffe as the vibrant, unique place it is; by overhauling the design of not only their website, but also their brand.
Wycliffe's primary requests included:
• Powerful, Easy-to-Use CMS;
• Mobile Friendly Site;
• Social Media Integration;
• Multi-author, Multi-site Blog Functionality;
• Appealing Visual Design;
• Renewed Brand;
• Enhanced Search Functionality; and
• Compliance with Canadian Accessibility Standards.
The Solution:
Prior to its makeover, the Wycliffe College website was running on a custom-built CMS. The redesign and migration to Drupal 7 promised advancements in flexibility, content editing and moderation workflows from a Wycliffe employee perspective and an overall boost in user experience for the end user.
 
Comprehensive Content Strategy & Information Architecture Restructure:
Wycliffe College's existing navigation system made it difficult for end users to find the information they needed. In addition to getting a better understanding of the site's content and target market, the main priority of the Content Strategy portion of this project was to create an Information Architecture that allowed for easier marketing goal conversions for the Wycliffe College end user. Through developing a Content Inventory, conducting Stakeholder Interviews, creating User Personas and User Stories and devising a Gap Analysis we were able to create a revamped, streamlined sitemap for maximum UX efficiency.
Rebranded Wycliffe College with a Fresh, New Logo:
Left: Wycliffe College logo before; Right: Wycliffe College logo after redesign
Wycliffe College Original Crest
While working through the Content Strategy process, our design team began examining Wycliffe's request for a rebrand of the College logo. As with our Content Strategy methodology, we kicked off the Wycliffe College logo redesign with a stakeholder Branding Interview. From this conversation, we were able to understand the reasoning behind the redesign request: refreshing the brand's look and feel while evoking a sense of Wycliffe's history. Founded in 1877, Wycliffe College is rooted in tradition and history, and in order to bring that to life we decided to reimagine the school's original Crest.
Our mission was to transform Wycliffe's original crest into a more modern, sleek & revamped version of itself. This was accomplished by removing minor details including shadowing and choosing a more sophisticated and minimal color scheme of a darker, now "Wycliffe Blue", white, and black. The Wycliffe College Wordmark completes the new look by using Bodoni, a classic serif typeface that further exemplifies the new logo's juxtaposition between modern and traditional.
Developed a Reenergized & Responsive Look & Feel:
In working closely alongside Wycliffe's dedicated stakeholders it was easy to understand the importance of creating a new website design that better reflects the vibrancy across Wycliffe College's campus. Wycliffe's legacy site was static (not responsive). This means that users viewing the old site from mobile (handheld) devices were not receiving an appropriate web experience. In order to bring Wycliffe's site up-to-date, a custom responsive redesign was imperative.
The revamped homepage now offers users an enhanced visual hierarchy and navigational structure (completed during Content Strategy research stages) ensuring ease of use throughout the site.  With the introduction of a vibrant color palette featuring the new Wycliffe Blue, Navy, white & black the new site exudes a modern, sleek look and feel. Wycliffe College has the advantage of talented in-house photographers, whose photographs we made sure to highlight throughout the new site, providing a friendly, authentic experience for Wycliffe's target audience. The full-width carousel at the top of the homepage allows Wycliffe a space to feature important upcoming events & deadlines to all segments of their target market while presenting a visually stimulating first impression. A full-width gallery section highlighting Student and Faculty Spotlights along with other time-sensitive page links conjures a modern, social media-esque experience. While a fixed navigation allows the user to scroll through the page without losing the ability to see the main menu, bright, call-to-action icons (repeating the new logo shape) are used at the bottom of the page to direct users to Wycliffe's key marketing conversion goals.
Left: Wycliffe College Homepage Before; Right: Wycliffe College Homepage After 
Additional Features:
Implemented accessibility standards (Ontarians with Disabilities Act, AODA, compliance) and robust search functionality.

To improve the Web-accessibility for the Wycliffe project we implemented a predefined theme structure adhering to Drupal coding standards.  We also implemented guidelines that are most commonly employed when constructing web solutions for online content targeted for users with disabilities.  We followed the conformance requirements from the Canadian Law Ontarians with Disabilities Act (AODA).  The search functionality was designed to allow users to search for courses, course syllabi, and other content on the website with ease and speed.

Integrated social channels into all facets of branding and site design.

Social media visibility is vital to fulfill the purpose of any website. Our brand design strategy was centered on building an effective social media experience from the website that is constant across all social media websites. The Wycliffe website was built to allow maximum exposure to all social media websites so that users can easily place content into networks, where their members, fans, and followers are searching.

Developed content, User Interface strategy, and managed migration of old content.

One of the primary tasks for the project was to seamlessly migrate from a custom CMS to Drupal 7.  The New Wycliffe website provides a functionally advanced website with modern design, easy-to-navigate functionality, and a content-rich site-experience. Our focus was also on building a solution with an intuitive page-structure to benefit both user-experience and Search Engine Optimizations (SEO). With a lot of SEO specific modules that were setup and configured, we provided Wycliffe content users the benefits of SEO without additional inputs.

Constructed an extendable, unified commerce solution for donations, event registrations, and product sales.

One of the new features Wycliffe required is the ability to handle payments within the website. Wycliffe donations can be easily made on the website and the functionality allows for making single donations or recurring donations of any amount; this allows the users to track all their payments from the website itself. Events on the Wycliffe website can be posted along with the data, time, and duration allowing users to register for events. Users can also pay for certain events and choose their food preference, seating arrangements, and other options while registering. A store was built within the website where items can be sold directly to users. All the above functionality has been built upon a single payment system.

Enabled faculty, staff, and student users to manage content for blogs, profiles, courses syllabi, media, and more.

Multiple roles were created within the Wycliffe project for appropriate users to add and edit blogs, faculty profiles, events, news, media, courses and syllabi so that every user can manage their own content.

Faculty & Staff Directories.

The client was especially impressed with our revamping of the Faculty and Staff listings and profile pages (which as mentioned above are editable by the appropriate client users).  In reorganizing the directory pages from one long column of information to multiple rows of content and by incorporating a filtered search feature, we were able to elevate the overall user experience. Full-time Faculty Directory | Staff Directory
Left: Wycliffe College Faculty Directory Before; Right: Wycliffe College Faculty Directory After 
Utilized all forms of media to express the experience of community across all areas of the college.

The Function1 team provided Wycliffe with the functionality to integrate all types of social and media widgets like video integration, feeds, i-cal integration and subscription that will allow users to be informed and interact with the Wycliffe website with ease.

Paragraph features: accordion, carousels, video embed, etc.

The Wycliffe project was built completely using panels and paragraphs.  Paragraphs allowed creation of complex content with varying media with ease for the client, while panels allowed the Function1 design team to utilize a complex layout, allowing the client to include a variety of content with ease. We were able to achieve increased flexibility and complexity in the design process by using the panels paragraph combination for the underlying website framework
The Outcome:
The priority and objective for every Function1 Drupal project is to create and deploy a website that perpetuates our clients' success. As a hidden gem in the arena of theological study, Wycliffe College needed a website that truly represented its vibrancy and diverse student body. Our goal was to develop a site that Wycliffe students, faculty and staff alike would be proud to show off; an online space that closely reflected their well renowned campus. By migrating the Wycliffe College site to Drupal 7, we were able to deliver a cost-effective recruitment and knowledge-sharing tool for Wycliffe's wide variety of target audiences. Not only does the new site better reflect Wycliffe College visually for its myriad of end-users, it also promises an ease of use for in-house content editors, ensuring up-to-date and well-maintained content for years to come.
Are you interested in obtaining a quote for your website redesign? Contact us at info@function1.com.