WFH During the COVID-19 Quarantine: 7 Tips for Adjusting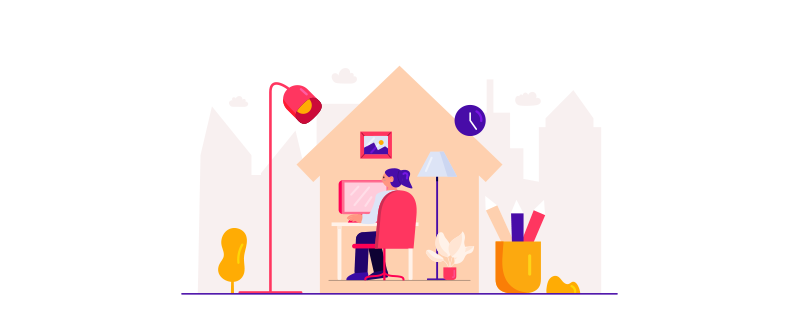 This article is a guest post written by Molly Barnes and is the first in a series exploring the "New Normal" of universal (non-essential) remote work as the world continues to combat the Coronavirus.
The novel coronavirus has turned every aspect of our lives upside down. In a world that enforces social distancing to limit the spread of a worldwide pandemic, the way we socialize, educate our children, shop, and work has radically shifted. Many companies have pivoted most, if not all, of their workforce to working from home. For someone who's used to going to the office every day, the adjustment to remote work can be jarring. To help, we've put together a few tips and tricks to ease you into the new normal of working from home until COVID-19 is contained.
Sort Out Your Hardware
To establish a fully functioning home office during quarantine, it's important to secure the right tools for the job. Whatever it is that makes your job more comfortable (and more like your normal office), try to approximate that setup at your home. 
Maybe it means introducing an ergonomic keyboard to your desktop setup or moving a comfortable chair to a spot where you can sit for hours on end. Perhaps it means adding a dual monitor to spread out the work in front of you. Or, considering the various distractions at home, perhaps a set of noise-canceling headphones is in order to drown out background noise and help you focus.
Update Your Software
Part of successfully working from home is having the right tools for the job. More important than nearly any other factor, this means your computer software should be up to date and working efficiently. One of the worst things that can happen when you're working at home is to see valuable time slip away (or watch your co-workers fidget during a video call, waiting impatiently) as you wrestle with computer issues.
So make sure all of the applications  you need to do your job are installed on your computer at home and operating properly. Check to see that you have the latest versions and updates. If you need help, ensure that you can reach your company's technical support team remotely.
Get a Jump on Spring Cleaning
Nothing is more distracting than trying to work amid a sea of clutter and unfinished projects around the house. One key to success when working from home is making sure you have a clear workspace. Whether you pick one room to designate as a home office or simply set up your "office" at the dining room table, you want to be able to limit the number of distractions, visual and otherwise. 
This might mean simply relocating a few unused items to storage, or maybe you need to embark on a major spring cleaning project. Renting a dumpster is an affordable start to ridding yourself of duplicate, unnecessary, or broken items around the home.
Reach Out to Colleagues
 Your colleagues are in the same boat as you are, trying to navigate the uncertain waters of working remotely. Check in with them and see how they're doing. Chances are, they'll be feeling the same frustrations you are, but they may be able to share a tip or trick that helps them. scheduling some time to reach out to colleagues one-on-one can help you maintain a semblance of normalcy and keep you socially grounded.
Create a Schedule
With weeks of self-isolation behind us and who knows how many more ahead, it's become hard to tell what day it is, let alone what time. To keep yourself on track, set up a schedule to get through the workday. Make sure you list everything that absolutely must be accomplished in the day, but also include some time for yourself. 
Start by scheduling any video conferences and calls with co-workers, clients, or other important people. You can slot in chunks of solitary work between those. Don't forget to schedule breaks for lunch and snacks, and make sure you're getting up and stretching throughout the day. 
Part of working from home successfully includes managing your own expectations — as well as your boss's. It's important to establish a clear start and end time each day, to keep you physically and mentally sharp and to avoid burn out. Keeping to a schedule will not only ensure you're able to complete your day-to-day work, but it'll also help keep you mentally healthy. (More on this below.)
Take a Mental Break
Working from home can make the long hours blend together, and it's easy to work well into the night without noticing. Working at a computer for hours on end takes a toll mentally and physically, so make sure to maintain your mental health by taking breaks throughout the day. 
Get up from your desk to grab a snack, or hop in the car to take a drive around the block with the windows down and the music turned up. Whatever it is, make sure you think about your personal well-being as much as you're focusing on your company's.
Protect Your Financial Wellness
And here's one final personal note: As companies work to maintain revenue, drastic labor reductions and expense cuts are being made left and right. Now is the time to take care of your financial wellness. If your pay has been reduced temporarily in response to COVID-19 — or if your income  has shifted significantly — it can help to set up a budget to begin managing your expenses. 
Be sure to check your credit score, too. Not only can a solid credit score have a big impact when you apply for loans (which might become necessary), but also, a better understanding of your score can help you avoid damage from the scams and fraud that are ramping up in the wake of the pandemic.
Working remotely is a new challenge for many people, but by following these tips, you can successfully manage your work-from-home schedule. Set up a daily schedule, take breaks, and stay connected with coworkers during this time when social distancing is forcing us to improvise and adapt instead of following our familiar routine. When you come out on the other side, you'll have new skills, resources and abilities.
Molly Barnes is a full-time digital nomad. She works remotely, travels constantly, and explores different cities across the U.S. She started her website, www.digitalnomadlife.org as a resource for travelers, nomads, and remote workers. Molly writes resources that help office and remote workers alike reach their full personal and professional potential.