Splunk .conf19 Preview: Add these 5 must-see sessions to your schedule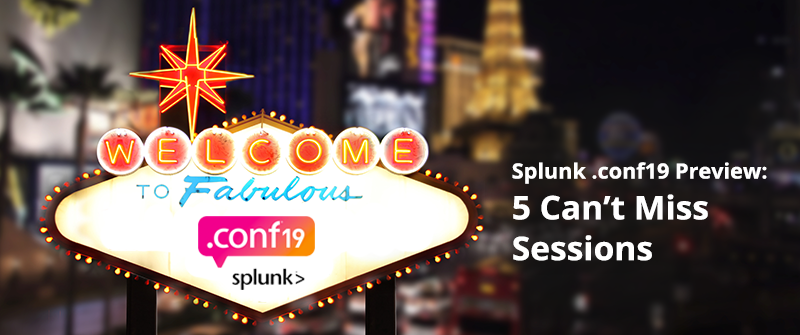 In just a few days, we'll be heading (back) to Vegas for Splunk .conf19 - the 10th anniversary of Splunk's biggest event of the year - and this time we're bringing our expertise to the Developer track (more on that later). As a proud Splunk PS partner and .conf veterans, it's been exciting to watch the event evolve throughout the past decade - growing from a gathering of hundreds to now more than 10,000 (!) attendees. 
Suffice it to say, .conf is the place to be to learn new skills, connect with other data aficionados, meet Splunk experts, and, most importantly, have a pretty good time in the process. But with more than 350 speaking sessions this year, it's easy to feel a bit overwhelmed as you browse the catalog to flush out your schedule. 
To help you get the most out of your .conf investment, we did some of the heavy lifting by sifting through all of the options to put together a list of our top 5 can't miss .conf19 sessions. So, without further adieu...
5. DEV2165 Deep Dive on The New Dashboarding & Content Export Experience
Tuesday, October 22 | 04:15 PM - 05:00 PM
Newbie Splunk App Developers and old pros alike can take this session to learn how to use Splunk's new dashboard framework to integrate dashboards into apps flexibly and reliably. Want to hear best practices from the Splunk experts themselves so you know you're building the most optimal dashboards? This one's for you. As a bonus, you'll leave knowing how to export dashboards as beautiful images and PDFs that perfectly match the originals!
4. DEV1317 Data Stream Processor: Architecture and SDKs
Wednesday, October 23 | 02:15 PM - 03:00 PM
If you're like us, and interested in learning the ins and outs of Splunk's Data Stream Processor (DSP) - make sure to add this session to your schedule! You'll also get an overview of Splunk's developer SDKs that allow third-party custom functions to be developed and integrated for data processing. 
3. SEC1280 - Scary (Spooky?) Fast Intelligence-Based Hunting with Splunk Phantom
Thursday, October 24 | 11:45 AM - 12:30 PM
Does your team struggle with quickly and consistently applying behavior-based threat intelligence across your security tools? Add this session to your schedule to learn how to use Splunk Phantom to automate threat hunts. You'll walk out with an understanding of how to use Yet Another Recursive Algorithm (YARA) rules on endpoint and network security tools automatically and simultaneously. 
2. FN2143 - How to effectively run high cardinality and federated searches using Data Fabric Search
Thursday, October 24 | 10:30 AM - 11:15 AM
A session dedicated to Splunk's newly available Data Fabric Search? Yes, please! Attendees will learn how to go about enriching Splunk searches and navigating through the different search phases to effectively utilize resources.
So...what's the #1 session we're most excited about? (drumroll please…)
1. DEV 1667 - Converting a Traditional Splunk App to a Splunk Cloud App with Splunk Developer Cloud
Wednesday, October 23 | 11:45 AM - 12:30 PM
It's the one Function1's own Splunk experts are delivering on how to convert a traditional Splunk app into a cloud-native app that uses Splunk Developer Cloud APIs and services. If you've been curious about getting started with SDC, this is the perfect session for you. Splunkers with an intermediate skill level will learn best practices, advantages, and challenges while walking through our internal process by converting one of our homegrown Splunk Apps.
Will you be at Splunk .conf19? We'd love to connect! Drop us a line at info@function1.com or on Facebook, Twitter, or Linkedin so we can be sure to say hi!