Celebrating Function1's Women in Tech: Meet Caroline Campoli Givnish!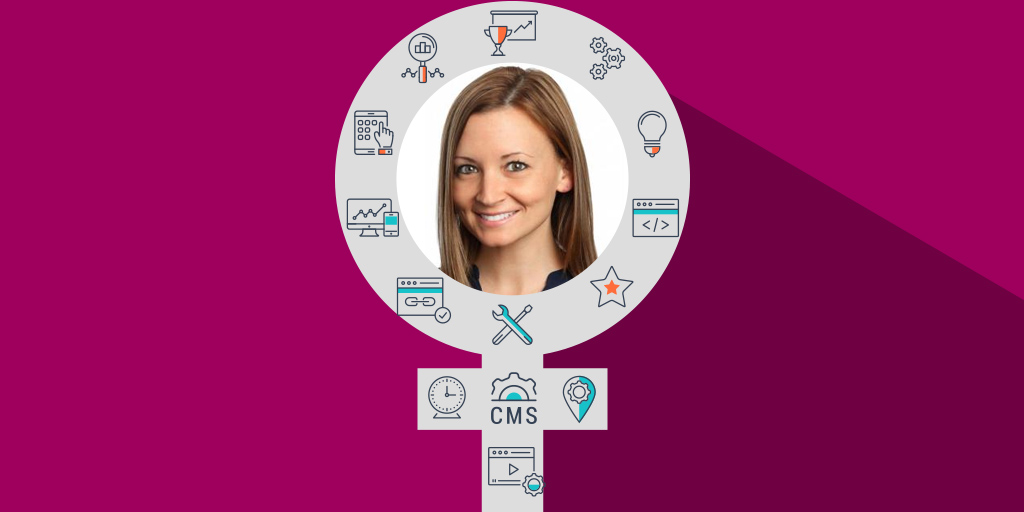 We turn the tables for the last post in our Function1's Women in Tech Interview Series and put Caroline Givnish, UX Designer in the hot seat. We talk with Caroline about what led her to embark on a career in the technology industry and how being a working Mom has elevated (not hindered) her skill set.
Tell us a little about your role at Function1. 
Because Function1 is a smaller organization
,
 I have the opportunity to wear multiple hats, but one of my primary focuses has been with UX Design in supporting our Web Experience Management Teams. My UX responsibilities range from: conducting stakeholder interviews, executing content strategies, developing website visual design direction through wireframes and mockups
,
 and ensuring web project usability and accessibility.  I also manage our Social Media Accounts (through Buffer) and our Company Blog workflow. More recently, I was given the chance to lead our Marketing Automation Initiative
 which has allowed me to continue to learn new technologies and grow my leadership skills.
What was your path to working in tech, and did you have role models or mentors along the way?
After I earned my Bachelors degree in Graphic Arts 
with
 a minor in Marketing
,
 I started my career as a Graphic Designer at Commercial Real Estate firm, CB Richard Ellis. From there, I continued my design work in the Legal industry at a small law firm, Rawle & Henderson
,
 and then Duane Morris. I came to a crossroads at that point in my career where I felt that I was ready to take on a new challenge
; it was 
around that time
 that I 
learned of an opening at Function1. It was only while working at Function1 that I was able to explore a new path within the tech industry that I previously never imagined possible. 
I have been fortunate enough to have had some of the best female bosses and senior team members throughout my career who I consider role models including: Kelly Conaway (Director of Marketing at CBRE) and 
both 
Tiffany Weston & Tara Thompson (Graphic Design Department Manager & Senior Designer at Duane Morris - respectively). I was able to learn so much from them just by collaborating with such smart, successful women day
-
in and day
-
out.
Here at Function1
,
 I get to work with many intelligent, talented women who I am constantly supported by and receiving guidance from - especially one of my bosses, Avani Cheriathundam
,
 and of course - you - my fellow Social Media teammate. You both showed me the ropes and helped me to gain confidence in an industry that was completely new to me. I feel like I could name all of my female colleagues here because we have such a great built-in support system.
What advice would you give a young woman looking to work in tech?
Believe in yourself! I think it's easy to feel overwhelmed in a field where you are so heavily outnumbered. I've learned to put my "imposter syndrome" to good use by constantly trying to learn new skills and fine
-
tune existing ones. 
Which brings me to...Always be learning! I've benefitted so much from taking 
Girl Develop It
 classes since working at Function1. Not only have I learned new skills but the programs are also a fantastic opportunity to meet and network with other women in tech. I can't say enough good things about that organization! 
Lastly, find a good support system (of both women and men!) that you feel comfortable seeking guidance from and don't forget to offer your help to others as well - everyone appreciates a team player! 
What do you think is the biggest barrier for getting women interested in the tech industry? Any thoughts on how to get more women interested in tech?
I'm hopeful that the gender gap will start to close for the next generation of women with the increase in STEM programs that are geared toward young girls - but I'm not naive in thinking that will completely solve the problem. I think we can also help men to become better advocates for women in tech. Their support can play an important role in promoting gender equality. Small actions of solidarity like noticing and correcting if/when a woman is treated in a demeaning manner
,
 or disproportionately interrupted
,
 or talked over in meetings can make a huge difference!
The tech industry has a particular advantage in ensuring that women stay in the workforce (especially after having children) because there are more flexible job opportunities available
,
due to the nature of the field
. Organizations like 
Werk
 are helping to further this initiative by placing qualified women in positions that support their needs. 
In addition to your role at F1, you also have another full-time job - as Mom to an 11-month-old daughter. As a working Mom in a demanding field (in which you are outnumbered) how do you find balance? Any advice for fellow Working Moms?
I am fortunate enough to be able to work remotely most of the time
,
 which helps immensely when it comes to being a working parent. Without that flexibility, life would be a lot harder! I do try to "shut down" between the hours of 6p and 8:30p so that I'm able to enjoy our nighttime routine. Slack makes this easier by using its 
Do Not Disturb feature
. If I have a hard deadline, I can always come back to my work once she goes to sleep
. 
The one thing I've learned is that becoming a Mom doesn't have to be a disadvantage or mean taking a step back when it comes to your career. If anything, since having my daughter I've added to my skill set - especially in the areas of effective time management and Emotional Intelligence.