CIO Review Names Function1 to 20 Most Promising Red Hat Solution Providers 2015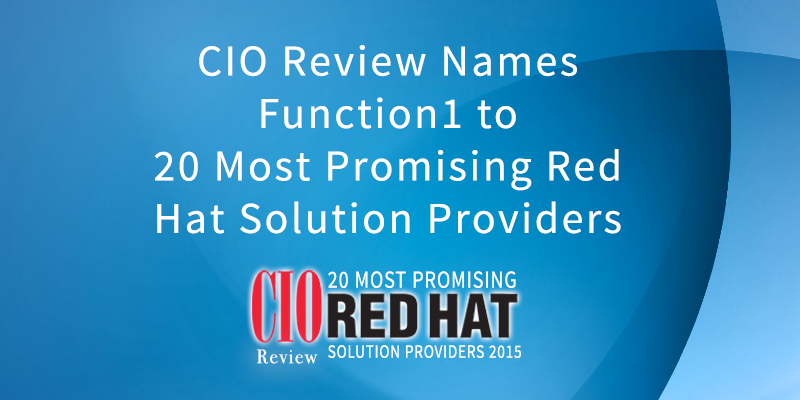 A distinguished panel of CIOs, CEOs, VCs and members of CIO Review's editorial board are responsible for identifying this annual list of companies, which aims to highlight and promote technology entrepreneurship. The decision highlights Function1's 2 year long partnership with Red Hat, and recognizes Function1 as the only partner with mastery in both Big Data within the Splunk ecosystem and storage certifications within the RHS ecosystem. 
"Function1 has been on our radar for some time for stirring a revolution in the Red Hat space, and we are happy to showcase them this year due to their continuing excellence in delivering top-notch Red Hat solutions," says Harvi Sachar, Publisher and Founder, CIO Review. "Function1's solutions continued to break new ground within the past year, benefiting its customers around the globe, and we're excited to have them featured on our top companies list."
"Function1 is honored to be recognized by CIO Review's panel of experts and thought leaders," says Ashish Bhutiani, Founder and CEO, Function1. "Enterprise technology executives require storage solutions that provide their team with peace of mind and first-class performance demanded in today's data-driven environment. Our dedicated team of experts supports customers throughout the project lifecycle to gain valuable insight and visualizations based on their individual business and technical needs. We look forward to augmenting our client's storage capabilities and continuing our partnership with Red Hat for years to come."
About CIO Review
CIO Review constantly endeavors to identify "The Best" in a variety of areas important to tech business. Through nominations and consultations with industry leaders, its editors choose the best in different domains. Red Hat Special Edition is an annual listing of 20 Most Promising Red Hat Solution Providers in the U.S.