Modern Customer Experiences: A Digital Conversation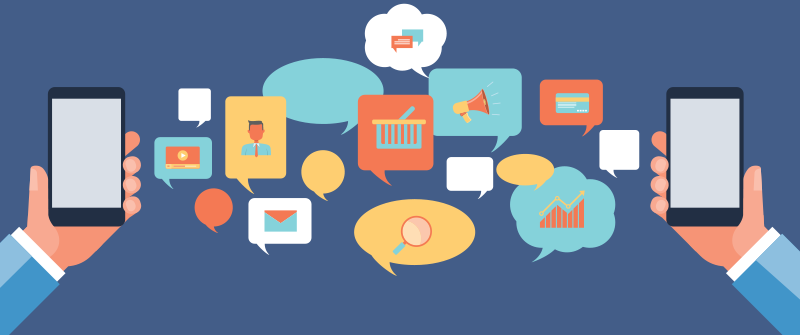 When I began my career more than ten years ago, I used to think a successful project was deploying good code or executing all of the business requirements, but experience has since taught me that success is directly related to delivering the best possible customer service. Don't get me wrong, writing good quality code and meeting business requirements are (and always should be) a priority, but delivering the best work with a poor experience to customers will unlikely have them calling for future opportunities.
I remember receiving training my first job at a Supermarket. We were being taught how to make conversation when encountering customers. That involved engaging customers who appeared to be lost or looking for something or talking about the items that customers were purchasing at checkout; for example, suggesting a recipe or describing something you liked about an item as you were scanning it.
So what's changed? The reality is customer service has NOT changed, but the way we interact with the customers has certianly evolved. Organizations are still "conversing" with their customer but now this is done through computers, cell phones, tablets amongst other devices and these mediums are only growing. The rate of device evolution is faster than ever before. The telephone era lasted about 80 years, while the computer era only lasted roughly 17 years before the smartphone came along. It has become vital for companies to tailor their digital strategy roadmap on modernizing their infrastructure to ensure relevance with their consumer base.
So what is the key to a good digital conversation?  For starters, a good customer interaction is one that allows a customer to interact on their terms. This means when they want to interact and on the device or mechanism by which is most convenient for them at the time.  For instance, using their Smartphone while away from home.  
To deliver a mobile experience, a number of companies incorporate responsive design on their websites.  Though this is great, companies must consider that mobile devices may have native capabilities that cannot be leveraged on a website.  One up-and-coming example is Augmented Reality (AR). More devices will start to support AR and inorder to leverage this a mobile application must be created. In the last year or so the popularity of IoT has grown. Many consumers now own a smartwatch and these require their own native apps with their own way of interacting. The experience of each of these touch points must be considered and addressed individually as the number of device types grows.  
Relevance is another key to a good customer interaction. In today's world of 24/7 connection, in order to hold a customer's interest the content must be relevant with value-added information or services that will keep them engaged. This is often implemented with segmentation, but this marketing approach is based on historical behavior - a better version of sending out coupons to existing customers. People are unique and trying to group customers into a set list of criteria, however large, is still not enough.  Enter individualization. Individualization is a data-driven approach that aims to learn about the customer based on their current behavior to determine their up-to-the-minute interests. There are a number of Digital Marketing Platforms such as SalesForce DMP, Oracle BlueKai, or Lotame that can help collect data, analyze behavior and identify targeting opportunities.
Though relevance is a key component of a good digital interaction, it is important to note that relevance should not come at the cost of privacy. Privacy regulations and laws such as CASL (Canada Anti Spam Law) and the more recently introduced GDPR (General Data Protection Regulation) govern the type of customer data can be captured and used by organizations as well as customer consent. It is key that digital interactions comply with these rules and not encroach on a visitor's personal privacy preferences.            
You cannot have individualization without context. Companies must be aware of a customer's current environment and thus be able to adapt to it. Context-aware capabilities tie to the customer's device or medium; different types of devices provide different capabilities, although some overlap. For instance, using the location services of a smartphone to access the current location of a customer may open opportunities for targeted content. Say, if it was raining, the customer can be sent targeted ads for umbrellas from nearby retailers.
Lastly, consistency across all channels and devices is essential.  Consistency, in this case, does not mean the same. Consistency is when a customer's current interaction builds on previous interactions. This ensures a holistic approach to the customer's experience.  For example, using a customer's recent feedback on Social Media and incorporating that into a value-added service or information for their next interaction, which could be a message on a Smart Watch or targeted content when they are on the website.
Now, to tie it all together, an organization's digital offering needs to stay up-todate with the current technological trends.  In today's non-stop world, change is the only constand. This includes technological capabilities, content consumption, and evolving privacy regulations.  2018 will see more IoT enablement and possibly some AR applications. We can expect more use of AI (Artificial Intelligence), Blockchain, and Chatbots. 2018 will also bring further tightening of privacy regulations through the enforcement of GDPR (General Data Protection Regulation). How can these be used or factored in to the modernization of your digital customer experience? Comment below or reach out to me directly at info@function1.com.