Wellness at Function1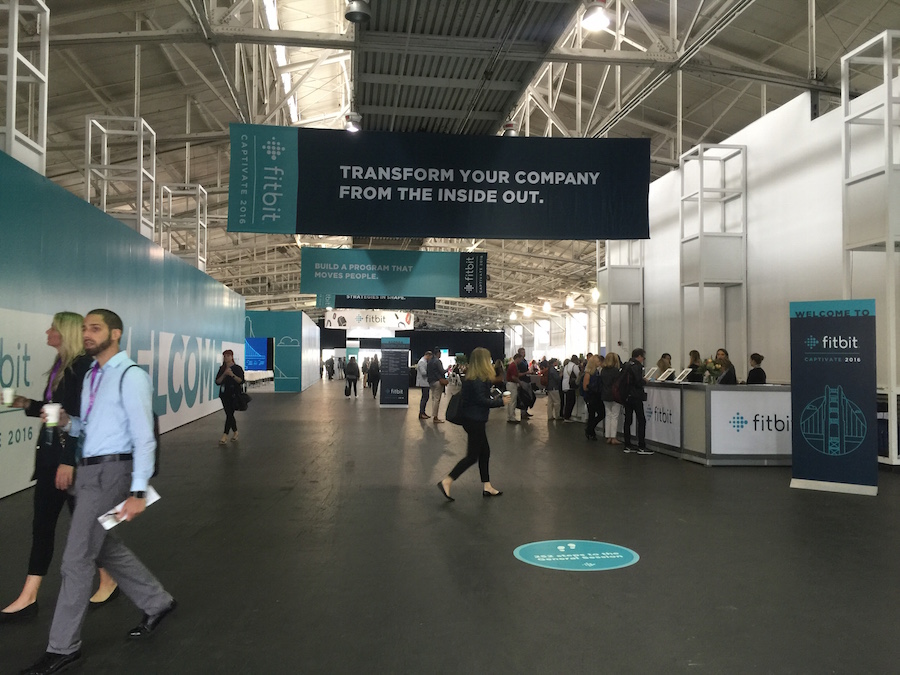 In 2014, Function1 launched a Wellness Program with the goal of promoting a healthy workplace through fitness and wellness challenges.  We have run a number of challenges over the years, ranging from step challenges using FitBit devices to meeting personal goals.  The average length of the challenges has been 3 months and participation has ranged from 40% to 60%, depending on the challenge.  We have also incentivized participation through rewarding winning participants and/or teams with gift cards.
In order to gain insight and tips on improving Function1's wellness strategy, Elizabeth Makepeace and I attended the 2016 FitBit Captivate Summit: The Future of Wellness at Work ("Summit") in San Francisco earlier this month.  For those of you who may be unfamiliar with FitBit, FitBit is a brand name in wearable technology and a leader in corporate wellness.  Inspired by the active and gaming features of the Nintendo Wii, the co-founders of FitBit started by launching a basic tracker in 2009.  Fast-forward seven years and FitBit now sells devices that auto-track multiple activities such as sleep, heart rate, calorie intake, reminder alerts to move, and weight control, all with the goal of helping people reach their personal health goals, from the 200 steps/day stepper to the ultra-marathoner.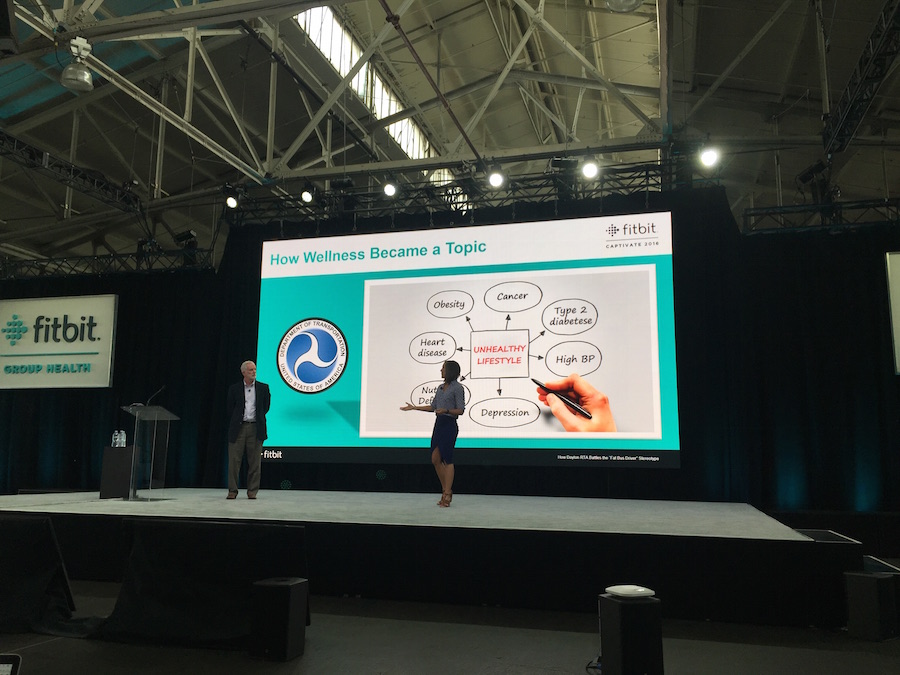 FitBit brought a wide array of distinguished speakers, many times employers themselves, to the Summit to discuss how employers can make a difference in their employees' health and happiness and promote a culture of wellness and well-being throughout their organizations.  This is in line with FitBit's evolving philosophy of moving away from the phrase "Wellness" and towards the idea of "Group Health."  
The central themes of the Summit focused on the importance of creating a culture of wellness at the workplace, designing a program that works for all employees and incorporating incentives that keep employees coming back for more.  For example, Target Corporation created a step challenge where staff broke off into teams.  Whichever team had the most steps got to pick a charity and Target made a donation to that charity.  Other ways to incentivize participation is through gift cards, stipends towards a wellness product, and giveaways (t-shirts, water bottles, etc.).  Challenges can also include rewarding teams and/or participants for "beating their best" through a "most improved challenge."  By utilizing key ambassadors, sharing and celebrating successes, keeping incentives fun and exciting, corporate wellness programs have the ability to make wellness a topic not only for discussion at the office, but a lifestyle priority for all employees.
Here are examples of goals submitted by employees at FitBit: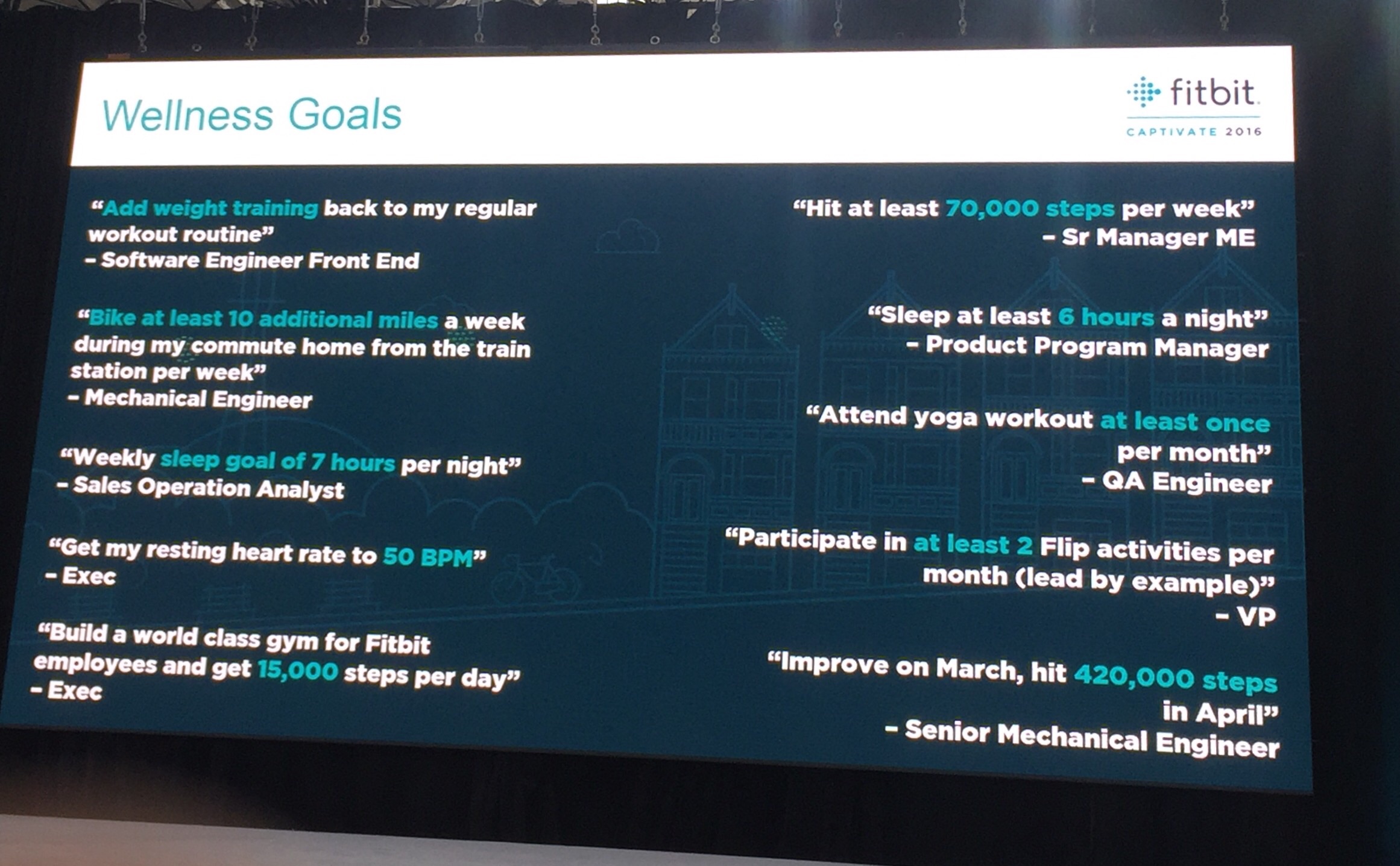 Hit at least 70,000 steps per week
Weekly sleep goal of 7 hours per night
Bike at least 10 additional miles
Get my resting heart rate to 50 BPM
Attend Yoga workout at least once per month
Build a word class gym for employees and get 15,000 steps per day
Add weight training back to my regular workout routine
We're looking forward to incorporating the ideas we learned at the Summit for future challenges to help evolve our wellness program at Function1.  We plan to conduct employee surveys using JotForm to collect data on what our employees have enjoyed in the past, the tools they need to achieve their personal goals, and what employees would like to see in future wellness challenges.   
We would love to hear from you.  Does your company have a Wellness Program or are you considering implementing one? If so, let's talk and exchange ideas! Email Lizzy at elizabeth@function1.com and I at vidhya@function1.com. We look forward to conversing with you!