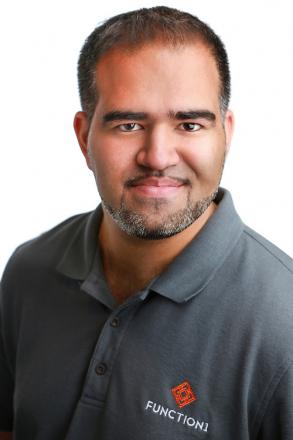 Sandeep Khaneja
Location: Arlington, VA | Education: Bachelors in Computer Science, minor in Business Administration | iOS or Android: iOS
Sandeep is an experienced cross-functional executive with a successful fifteen-year track record in business development, strategic relationships, enterprise application integration, and business & operational intelligence. He has extensive experience working with Fortune 500 companies, as well State, Local, and Federal agencies, across multiple verticals and delivers broad industry innovation to Function1's customers.
For Sandeep, cooking a well-prepared meal is one of the most relaxing activities outside of work life. It is the ingredients, the combinations, the creativity, and the blend of aroma, texture, and taste, which gives his imagination a very much-needed outlet after work hours!
Why Function1?

"No one can whistle a symphony, it takes an orchestra to play it." -- H.E. Luccock. Function1 values the importance of teamwork, extending it far beyond the scope of cross-functional team dynamics. Teamwork extends to the relationships we build with our clients, fortifying their trust in us as a part of their team even after we disengage from their project.