Cool Tools Part XV: LDAP Browser
Granted, the vast majority of the Cool Tools we've listed here aren't exclusive to the AquaLogic line, and frankly, while I've used this one before to diagnose problems with the AD and LDAP Identity Services, I probably wouldn't have even included it until recently, when the new ALI Directory Service made its debut.
The tool is Softerra's LDAP Browser, and it comes in both free and paid versions.  Using it (and the tip for the proper user name to authenticate with), you can peruse the account information exposed by the new service.  Simply start it up, point it at the right port with the right credentials, and browse away like you would with Windows Explorer or Regedit: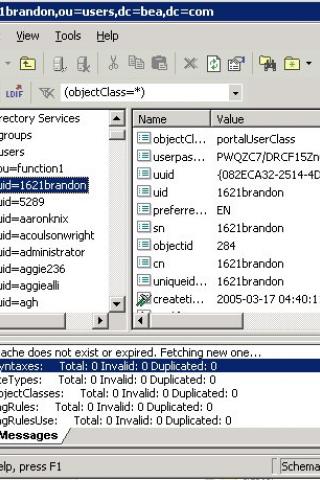 The two interesting things I've noticed off the bat is that the base DN (Distinguished Name) for the user and group OUs (Organisational Units) is dc=bea,dc=com, and that different auth sources have different OUs under that (while native Plumtree accounts exist at the top level.