Turn off Application Pool Recycling and Idle Timeout (IIS6)
IIS6 has a new feature called Application Pool Recycling. By default, this feature uses overlapped recycling, which means the worker process that is to be shut down is kept running until after a new worker process is started. This can cause problems with the portal, because as one instance is brought up it initializes temp files that the other instance may remove when it is shut down.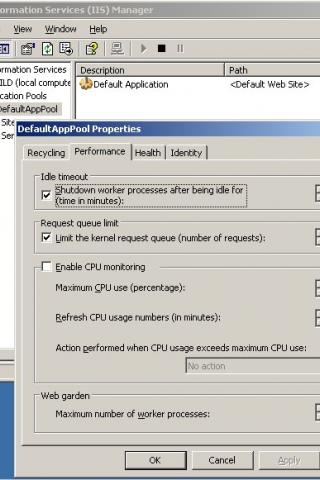 Additionally, there is a feature called "Idle Timeout" that shuts down idle worker processes. In low-traffic production and development instances, this can cause some requests to take a long time while the portal instances are re-started. Quoting from the G6 Installation Guide: There are new Application Pool configuration options introduced in IIS 6.0 which are enabled by default but should be disabled for Plumtree components running on IIS.

Open IIS Manager.
Expand the Local Computer and Application Pools.
Right-click the DefaultAppPool and select Properties.
On the Recycling Tab make sure that Recycle Worker Process options are disabled.
On the Performance Tab make sure the Idle Timeout option is disabled.
Click OK to save the changes.